Posted on February 18, 2014 by Maria Greene
John Hooper and Pat Mohr, president and vice president of the UU Humanist Association, attended the Moral March on Raleigh event on February 8, 2014. In the picture on the right, they are standing with Mike and Susanne Werner, fellow UU Humanists and secular activists. The march brought together approximately 80,000 people from around the country, including UUA president Peter Morales and over 1,500 other UUs, many wearing their bright yellow "Standing On the Side of Love" t-shirts. They came to Raleigh to protest regressive North Carolina GOP policies around health care, education, the criminal justice system and voter suppression that especially disenfranchise the poor and people of color.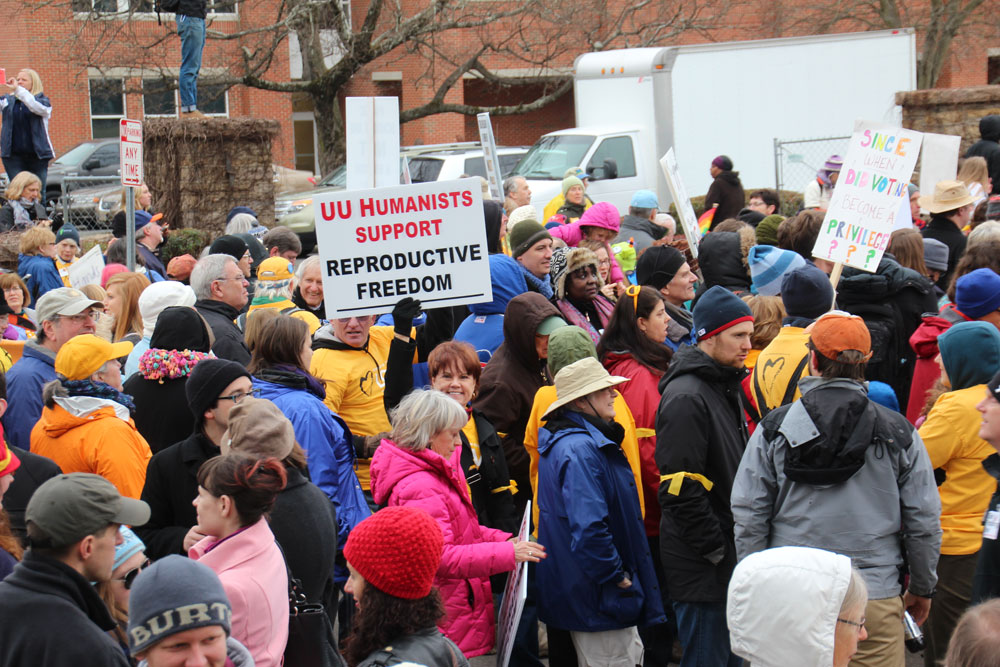 The march was led by Rev. William Barber, president of the NC NAACP and a Disciples of Christ minister. Barber has been leading the Moral Monday movements gatherings in the state over the past year. Many secular organizers, including Susanne Werner, co-chair of the Secular Coalition of NC, pictured above on the right, were put off by the very religious language of Barber and the other speakers. However, the movement's organizers emphasized that Barber's "policy messages, his organization and his objectives are thoroughly secular and open to all, whatever their beliefs or lack thereof when it comes to religion. No modern political movement is as diverse and open as this one." So, Werner made an effort to communicate with Barber about the impact his style of speech was having on inclusivity. According to Werner:
"... [we] attended his press conference in Wilmington the week before the march; it was one of many he was conducting around the state. We were determined to talk with him... and were gratified that he fully engaged with us in a discussion of the secular support within his movement. We told him that seculars support his issues (he has the endorsement of Planned Parenthood, LGBT groups, ACLU and he speaks against tuition vouchers going to private schools) and attend his rallies, but there would be more seculars in attendance if the religious language and exclusive Christian references were toned down... He agreed to include seculars in his talks..."
Rev. Barber was true to his word and this is how he described the people who came out for the march:
"We are black. We are white. We are Latino. We are Native American. We are Democrat. We are Republican. We are independent. We are people of faith. We are people not of faith, but who, though they are secular, they still believe in a moral universe. We are people. We are natives and immigrants. We are business leaders and workers and unemployed. We are doctors and the uninsured. We are gay. We are straight. We are students. We are parents. We are retirees. We are North Carolina. We are America. And we are here, and we ain't going nowhere!"
Many secular progressives are beginning to recognize that we must work in solidarity with the religious in order to achieve our common goals. It is gratifying to see religious leaders recognizing the same thing. Werner stated:
"My view is that if Rev. Barber's group and we agreed on everything we would be one and the same organization and that we need to build coalitions wherever we can find enough common cause. My Wilmington group, Humanists & Freethinkers of Cape Fear, was very enthusiastic about supporting the march and we had 12 of us in attendance; 8 of us were able to find each other in the thousands of marchers (even with cell phones it was hard) and wore logo hats and marched behind our banner.

...I am cautiously optimistic that Rev. Barber's movement will have an effect on our dire political situation here in North Carolina. The election this year will tell whether we are changing opinions here."